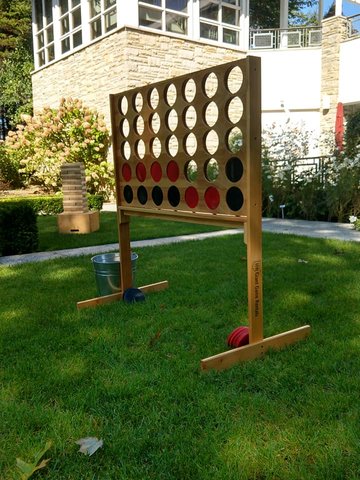 Natural Stain Giant Connect Four
This set is a natural stain with distressed red and black playing chips.

Players take turns dropping large chips in the slots. The object of the game is to get four of your color chips in a row. This can be either vertical, horizontal, or diagonal. The first player to get four in a row wins. The Giant Connect Four Game has a slide out bottom board for easy removal of chips to restart the game. The game is 3 ft. 6 in. wide and stands 4 ft. tall and comes with 36 chips. All items are to be returned in their original condition, cleaned and packaged as they were when you received them; free of any substances. We understand that accidents do happen and if an item is broken, lost or not cleaned you will be charged the replacement cost in addition to the rental cost. If items are not returned during the agreed upon time there will be a $50.00 late fee. If items are not back within 24 hours of when originally scheduled and no other arrangements have been made, you will be charged full replacement value for each rented item.