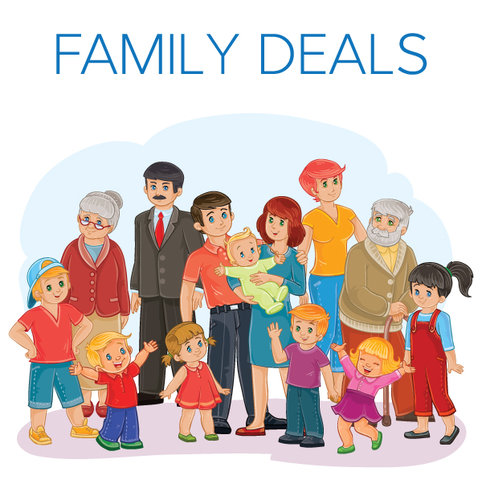 Family Fun
***ADULT SUPERVISION IS ALWAYS REQUIRED***

This package is designed for family fun with something for all ages to keep everyone interacting and entertained. This package includes a total of 5 games, 1 of each of the following games: Giant Connect Four, 55 Blocks of Fun~Jenga Inspired Game, Giant Peg Game, Ring Toss and Kids Corn Hole

Giant Connect Four - 6+
Players take turns dropping large chips in the slots. The object of the game is to get four of your color chips in a row. This can be either vertical, horizontal, or diagonal. The first player to get four in a row wins. The Giant Connect Four Game has a slide out bottom board for easy removal of chips to restart the game. The game is 3 ft. 6 in. wide and stands 4 ft. tall and comes with 36 chips.
55 Blocks of Fun~ Jenga Inspired Game - 7+
This game is played by removing one block from any level (except the one beneath the incomplete top level) of the tower, and placing it on the top level. Only one hand can be used. Blocks may be bumped to find a loose block that will not disturb the rest of the tower. Any block that is moved out of place must be returned to its original location before removing another block. The turn ends when the next person to move touches the tower. The games ends when the tower falls in any direction. The winner is the last person to successfully remove and place a block. This game should be played standing and all children should be supervised by an adult when playing. 55 Blocks of Fun is complete with 55 building blocks made of 2x4's with a carry case/play table. Each block has been sanded as smooth and routered on both ends for a beautiful look. All items are to be returned in their original condition, cleaned and packaged as they were when you received them; free of any substances.
Giant Peg Game - 7+
The game
board is a triangle with 15 holes in the same shape as bowling pins, except with an extra row. The game
starts with pegs
in all the holes except one; the goal is to jump pegs
one at a time, removing the jumped peg
until only one peg
remains.
Ring Toss - 2+
Game comes with 4 towers and 8 (2 each of 4 colors) rings. Game can be played by matching ring color with tower color or most points. Point values are on each tower.
Kids Corn Hole - 2+
This is a set of 2 mini kid size
boards with 8 small bags. The boards are 6" tall 16" wide and 23" long.